Co-Founder & Executive Director
In 1999, Bridget Alexander got on a bike and rode alongside 17 youth overcoming homelessness, depression, and addiction as they tackled a 2300 mile bike trip across America, proving to the world that when you focus on the strengths of youth who have spent a lifetime defying poverty and the impacts of injustice, they dazzle. The trip tested the ideals of the newly hatched nonprofit, Waking the Village (WTV), and confirmed the belief that youth achieve big things when surrounded by relentless support, meaningful opportunities, and adults who look upon them daily with belief.
Bridget also co-chairs Sacramento's Homeless Youth Task Force. Prior to launching WTV, Bridget taught school for 7 years, working with youth impacted by injustice. She loves sharing life with her wife and 3 kids, wood working, tromping around the river to spot coyotes, and seeing how many songs can be played on a guitar using the same 9 chords.
Co-Founder & Child Development Programs Director
Blithe Raines also hatched this WTV vision and peddled across America that Summer in 1999. Since then she has done just about everything to support WTV and its youth. She has coached, developed programming, been at countless births, written grants, and advocated for youth and children in offices, schools, and local government halls. Now, Blithe oversees and trains WTV's early childhood education teams, provides aftercare to Tubman House graduates, and teams with Bridget for continual program planning. She has 20 years experience teaching children and youth overcoming homelessness, including 4 years as a teacher at Mustard Seed School for Homeless Children. She holds a BS in Community Development with an Education emphasis. Her weekends and evenings are claimed by the joys of parenting three teenagers, baking something tasty, and exploring the world.
Lead House Director & Operations Manager
Mazelle Lolmaugh is the House Director Team Lead at Waking the Village. House Directors are responsible for partnering with youth to build a warm home culture that nurtures all those living there through traditions, rhythms, and the development of communicative, responsive relationships. They are a key presence in the evenings, ensuring family rhythms and community wellness are maintained. Mazelle has 20 years of experience in the nonprofit sector with an emphasis in Youth Development. She has been a House Director for Tubman House since 2005, living on-site, in community with residents and their children. Mazelle also manages the waitlist and other administrative tasks for Waking the Village as needed.
House Director, Infant & Toddler Teacher for Art Beast Child Development Center
Latisha Simms joined Waking the Village in 2009 and brings almost ten years of experience as a House Director. In addition to helping families maintain healthy evening rhythms within the house, Latisha gives residents the opportunity to experience a supportive and nurturing home environment. As an infant and toddler teacher, Latisha draws upon her parenting expertise to care for the hearts and minds of Sacramento's youngsters.
Youth Development Director
Maggie Gomez is a Youth Development Director at Waking the Village where she stands by young parents as they overcome homelessness and claim meaningful futures. In this work, Maggie is on college campuses, in hospital birth rooms, in courtrooms, and on rafting trips supporting residents in new experiences. She helms morning meetings, parenting classes, and leadership sessions to guide residents as they govern their communities and deepen understandings of the issues underneath homelessness. A graduate of Tubman House, Maggie helped launch and staff Tubman's on-site child development center while a Tubman resident. Maggie is also mother to two children and brings the wisdom earned in her own experiences of parenting and overcoming homelessness.
The Creation District Director
Grace Loescher currently serves as the founding Director of the Creation District. Within this role, Grace brings unbridled energy and passion for the healing power of art and social justice. Her work includes leading a group of youth on their first trip out of the country to participate in a service project building homes for the homeless in Mexico, giving homeless youth a platform to self-advocate by coordinating the Sacramento Youth Council, and connecting Waking the Village's graduates and residents to improvisation, spoken word, and dramatic performance to tell both their individual stories and the larger stories of the social injustices they have overcome in their journey. Grace is a graduate of Rollins College in Florida with a major in Studio Art and a minor in Theatre Arts. As an artist, she has exhibited works of experiential art, sculpture, and installation. She also works as a practicing artist in the Sacramento community, producing shows, performing at local venues, and creating space for other artists to collaborate and share their work. Grace profoundly believes that creativity is the most important element in discovering who you are, and that all young people should be given opportunities to grow and foster a healthy creative spirit.
Prevention and Intervention Specialist
Shelly Hubertus began serving Waking the Village in August of 2016 as a volunteer through the Jesuit Volunteers Corps (JVC). After completing her year of service as a JVC volunteer, Shelly continued working at Waking the Village as a Youth Development Coach, supporting youth in the Doorway Program and Audre's Emporium of New Tomorrows. Currently Shelly works as the Prevention and Intervention Specialist, connecting youth to resources, fostering their familial and community support network, developing strategies and actively working to reduce Youth Homelessness in all of Sacramento. She loves helping her coachees feel empowered to work towards their goals during a difficult and transitory time in their lives, and connect/reconnect to supports that will help them be successful long-term. She firmly believes in the healing power of community and relationships, and feels privileged to elevate youth voices and work towards eradicating youth homelessness in Sacramento. Shelly graduated from Texas A&M University with a major in Communication and minors in Psychology and Spanish.
Youth Development Director
Davjanee Tillis is a Youth Development Director at Waking The Village. She works with youth who are in the Doorway and P3 housing programs. She is from Richmond, CA, but currently resides in Sacramento. Davjanee attended CSU Monterey Bay and graduated with a degree in Psychology. She has a passion for working with youth to live out their goals and dreams. Prior to working at WTV, Davjanee served as an Americorps Member for City Year Sacramento. Serving as an Americorps Member allowed her to support and work with students on school attendance, behavior, and coursework. She learned the importance of being a tool for positive change in her community and the world. Davjanee's favorite part of working at Waking the Village is being able to support youth in overcoming the barriers of homelessnesss and helping them become advocates for themselves.
Youth Development Director
Jess Nunes is one of the Youth Development Directors at Waking The Village and feels fortunate to be actively supporting queer youth in Audre's Emporium of New Tomorrows. Jess is strongly committed to giving all individuals the opportunity to improve their lives and passionately believes in the strength of fostering relationships. Jess's undergraduate and graduate degrees in Women's Studies & Gender Equity Studies gives her a critical lens through which to support our LGBTQ youth. She brings an intensity of passion and practicality that shapes the WTV community. As an active member in the local queer community, Jess is creating an inclusive community project called Awake Cafe & Community Space. She makes a mean vegan cauliflower ceviche and loves to hang out with her friends.
Youth Development Director
Jean Luc Dushime is one of the Youth Development Directors at Waking The Village working with the Doorway program and graduates with Shelter Plus Care or Housing Choice Vouchers. Jean Luc's passion for youth mentorship comes from his life experience as a young refugee learning to navigate and adapt to constantly changing environments. Jean Luc is currently pursuing a master's degree in community building and he is committed to supporting youth as they transition to permanent housing and work on building their own communities.
Youth Development Director
Born and raised in California, Ashley Robinson has been directly impacted by socioeconomic factors such as classism, systemic racism, and sexism. Her life experiences ignited a passion to help those who live in underserved and neglected communities. She attended San Jose State University with a major in Forensic Science and is currently working on her undergraduate degree in Psychology through Arizona State University. Through her work at WTV, Ashley hopes to help foster an environment of harmony, acceptance, financial literacy, and equality. In her free time, Ashley enjoys museums, concerts, and escape rooms. Her life motto is: "Things don't happen to you. They happen FOR you."

House Director
As House Director in Tubman house, Kathleen Adams lives with young parents who are learning how to navigate through life as individuals and as parents. Kathleen's brings wisdom and experience from a range of careers and life experiences. She worked as a public education administrator for years before moving into the healing field of massage therapy. Kathleen also raised her own two sons and helped raise lots of nephews and nieces, along with her four grandchildren. These experiences provided her with the tools and insight to guide and nurture our parents, their children, and our single youth. Kathleen studied child growth and development and has been certified in infant, child and adult first aid and CPR.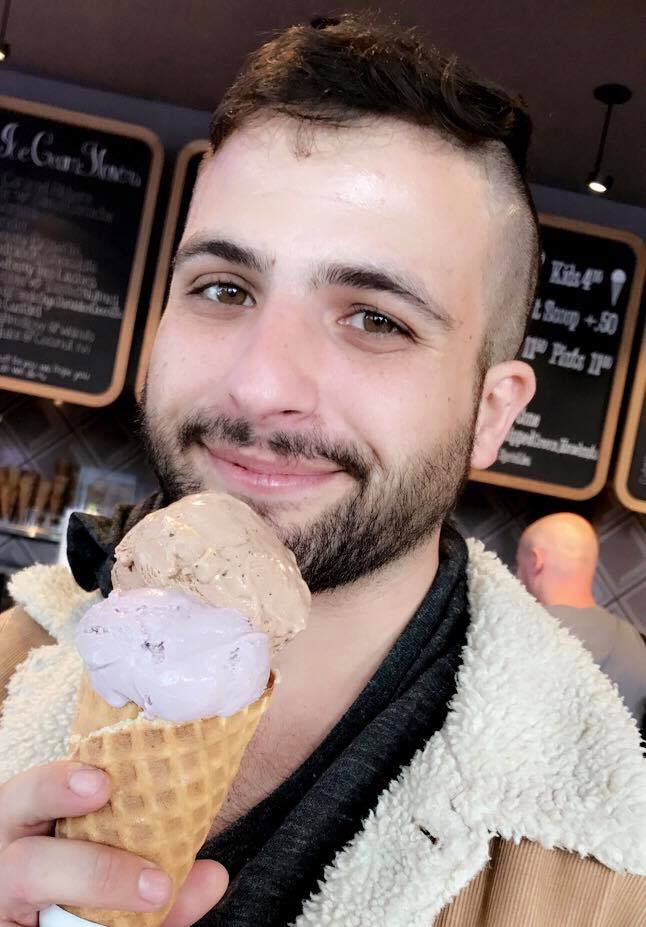 House Director
Bryce Chiodo is one of the newer members of the Waking the Village community taking on the role of House Director for Audre's Emporium of New Tomorrrows. A graduate of the University of San Francisco, he majored in International Studies with honors while minoring in both Jewish and Peace and Conflict Studies. Bryce brings with him a rich history of experience having worked in health care communications, harm reduction, behavioral and sexual health education alongside underserved and often marginalized populations globally. As a queer man, he feels fortunate to be given the opportunity to actively support queer youth at WTV in fostering relationships and in building community and the other personal and professional skills needed to thrive. Bryce strongly encourages practicing sustainable development through meeting folks where they are at, elevating voices from within effected communities, and aiding in strengthening the relationships, expertise, power, and resilience that already exist among communities. A country queer at heart, he can always be found gardening or trying to play with your dog.